Sinomach Heavy Industry Changzhou Base holds product presentation in Russia
2013-11-20 15:24:35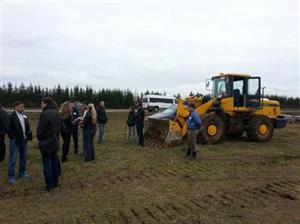 On October 31, in association with its Russian agent, Sinomach Heavy Industry
Changzhou Base held a product presentation in a city in the west of Russia, to
promote its products including loader and roller. Dozens of major customers
selling construction machinery and renowned construction enterprises were
invited and signed volume loader contracts with the base.
On the scene of the presentation, the salespersons and Russian agent elaborated
on the products' superior performance, with a focus on the base's great
attention and support to the Russian market as well as the agent's strong sales
network, after-sales services and parts reserves. The guests showed strong
interest in the products.